Special Notice!!!

Annlee Cakes of Arkansas City, Kansas

Online Store is OPEN!

Annlee Cakes Native American Regalia and Crafts

Art Originals by Artist Robert William Vincent

Art Prints FIRST TIME OFFERED by pabear48

Regalia and Circle Items

Books by Robert William Vincent

Hand Crafted Beaded Creations by Annlee

Regalia Earrings-- Regalia Necklaces

Collectables

You are invited to take a peek!

http://jewelrywonder.com/annleecakes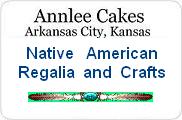 Hi! My name is "Wolf"...and I am WOLF THE TALKING POMERANIAN DOG"..Click one of the links below and enjoy free Wolf the talking Pomeranian Dog videos.
In video one: Wolf says..Hi Mom, I want one, I want one right now and hi mom again. Clip is very clear to listen to.

In video two: Wolf says..Hi mom...then whins..then says..I want one..This clip is not as clear as video one...But it is real!

In video three: Wolf says, Oh Hi Mom :short but to the point.

In video four: Wolf says, I want one..then want, I want and then gets mixed up..Beginning is crystal clear.

In video five: Wolf says, I want my mom and also hello

In video six: Wolf says, I want my mom, hi mom, hi mom

In video seven: Wolf repeats...I want one...ABSOLUTELY CRYSTAL CLEAR AND OUR BEST VIDEO TO DATE.

CLICK HERE FOR WOLF TALKING TWO
Click for Wolf Video Three: Oh Hi Mom
WOLF VIDEO SEVEN...CRYSTAL CLEAR
Notice: Every Wolf video holds a Standard Copywrite and they cannot be used without express written permission of the Owners. Nor for any commercial purpose without express permission. Anyone attempting to change or modify and display will be prosecuted. Videos may be used for non-commercial viewing, sharing and pleasure.

Author retains all rights to writings..Including all electronic items of every form: Unless the writer has given permission, his/her words should not be augmented, condensed, or excerpted in any publication, electronic or otherwise, beyond the limits of fair use which are Author determined.

Wolf is now chasing bones with Creator...Amen
Brand New Bear Cave Shops
Jewelry Designed using the Art of
Arkansas City, Kansas artist/author
Robert William Vincent
Limited Editions some as low as 100 Worldwide to 500 WW
And many more items!
Visit this link:
Or this second Bear Shop:
And our third
New Shop
Our Charm Shop
Buy that perfect cup today?

Art designed coffee cups make the perfect Christmas gift.

Or that very special gift all year long!

Enjoy exploring my live shopping coffee cups


See other gifts available on Zazzle.


The Bear Cave System of Interactive Caves is a fully copywrited entity owned by Mr. Vincent:

This copyrighted material may be quoted and/or reprinted for non-commercial purposes up to and inclusive of not more than two pages without the express written permission of the author and or publisher, provided the following credit line appears with any material quoted:
Taken from books by Robert William Vincent and more specific state the book and chapter.
Author expressly adopts and holds all copyrights unto his materials in every shape, manner and form and states: ANY INFRINGEMENT SHALL BE LEGALLY TAKEN TO COURSE FOR COPYRIGHT INFRINGEMENTS.
Copywrited @ as of November 09, 2004: Standard Copyright License
All violators will be taken to a Court of Law
Mr. Vincent may be contacted at:
408 East 5th Avenue, Arkansas City, Kansas 67005

The Bear cave System of Interactive Caves was built to aid and assit everyone.

Family Safe ! We ask you to consider supporting the Bear Caves.